Plug and play range
Just cant' wait to get in the tub ? Our super easy plug and play range means you don't need an electrician on site to install - it does what it says on the tin, just plug it in and play !
All of our hot tubs come with:
Free matching steps and a weatherproof leather effect insulated cover
Built in Ozonator to kill bacteria in the water
An MP3 3.5 Jack with waterproof pod for MP3 players or phones to listen to music through the built in speakers or a Bluetooth wireless soundsystem depending on the model you select.
Stainless steel jets, which are attractive, safe and don't peel or fade like plastic and chrome ones do
LED footwell and perimeter side lights in interchanging colours
Weatherproof composite cabinet/skirt. It looks and feels like wood but doesn't rot or fade
Strong water/rodent proof ABS sealed base which keeps the heat in along with the thick insulating foam surrounding the hot tub
Lucite acrylic shell, made in the U.S.A which is smooth, strong and durable. It has built in Microban which is made up of tiny particles the shell which kills bacteria and prevents stains and mould growth.
Balboa heater and touch-screen operating system. This is award winning and made in the U.S.A. It has won awards for its latest technology systems and ease of use.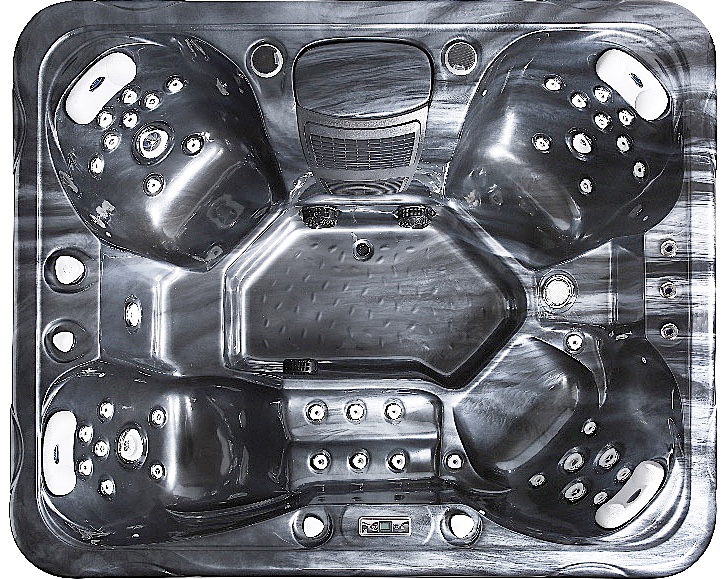 The all new 13 amp Quartz hot tub... rectangular in shape with 1 lounger & 4 seats, fantastic jet power with 44 jets and outer corner lights. ALSO AVAILABLE IN A 32amp OPTION
£3999.000
SAVE £1000 - Plug & Play - 13 Amp - 37 jets - Bluetooth Music - Lights - 1 Waterfall - Well Insulated - 2.2m x 2.2m large spacious hot tub.
£4199.000
SAVE £1000 - Plug & Play - 13 Amp - 35 jets - Bluetooth Music - Lights - 3 Waterfalls - Extra Insulation
£3999.000